Home Savings Bank will NEVER request information by email or text messaging including account numbers, passwords, personal identification information or any other confidential customer information. Fraudulent emails may be designed to appear as though they are originated by Home Savings Bank. DO NOT respond to any email communications which request any type of personal or confidential information and do not go to any links listed on that email. These communications are not originated by Home Savings Bank! Never give out any information that the Bank already has to a caller, or via text, or email. If you contact us we may verify the last 4 digits of your SSN to confirmation your identity but we will never contact you and ask for your debit/credit card number or your full SSN. If we need to contact you, it will always be done in a manner that protects your personal, confidential information and we will clearly identify ourselves.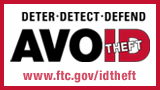 One of Home Savings Bank's top priorities is to safeguard your confidential information. We always work with the local regulatory and law enforcement departments to be certain any type of illegal activity is stopped as soon as possible. We have multi-layer security to protect your confidential information and will continue to be vigilant in protecting it.
For more information about identity theft and other tips on how to protect yourself and your information, visit the FTC's Identity Theft Resources site.
---
Home Savings Bank is committed to protecting your personal information. Our Online Banking uses several secure methods to protect your information. Our security protocol for transferring data creates a safe environment for the information being transferred between your browser and Home Savings Bank. All information transferred through Online Banking has the highest level of encryption.
In addition to the security features put in place by Home Savings Bank, here are some tips on keeping your information secure:
Never give out personal information including User Names, Passwords, SSN, Date of Birth, etc.
Create difficult passwords which include letters, numbers, & symbols when possible.
Don't use personal information for your user names or passwords like Birth Dates & SSN.
Avoid using public computers to access your Online Banking.
Don't give any of your personal information to any web site that does not use encryption or other secure methods to protect it.
Use a quality anti-virus/spyware/malware application and make sure it is regularly updated. Home Savings Bank recommends Sophos Home a free, easy to use application to protect your Windows or Mac from viruses, spyware and other malicious software.
---
With the significant increase in Debit card usage in recent years, fraudulent use of debit cards has also increased.
Here are some suggestions for you for the care and usage of debit cards:
NEVER give your debit card information when requested by phone, email or texting. We at Home Savings Bank, nor any other bank we know of, will ever request information from you in this manner. Please contact us if you receive any such request.
It is a good idea to pay by credit card if your card leaves your sight. An example might be when a waiter takes your card from the table in a restaurant or when ordering online. Debit cards are easier to process illegally vs. credit cards.